LA NATURA è HUMANA
Cascinet X PSICO.LOBO
26 September 2020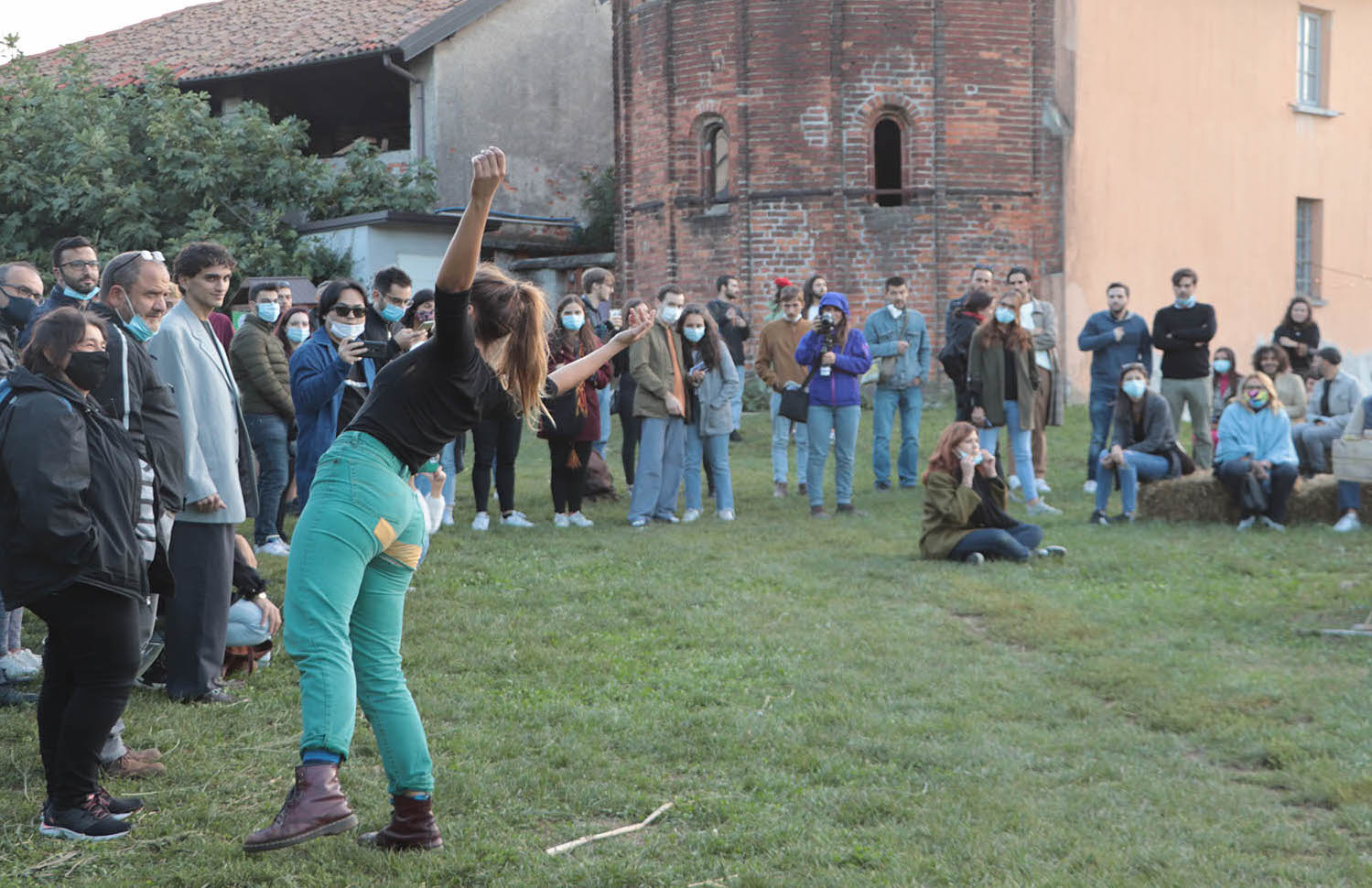 During the 13th edition of Cascine Aperte - Milan, PSICO.LOBO participated with an interactive performance to the group exhibition "Pensieri Ancora Possibili" curated by Sofia Baldi, (September 25- October 25, 2020) at Cascinet Agro Hub. "La Natura è umana", under the creative direction of Virginia Roghi, was built through the movement and repetition of iconic gestures to regenerate the gaze towards ourselves, the community, and the space surrounding us. PSICO.LOBO re-thought the rules of shared area and the relationship between bodies, where the same scenic and emotional space unite the audience and performers. According to psychogeographic theory, it is essential to begin to understand the urban environment as an active device that influences the behavior and the thoughts of the individual. The progressive loss of self-awareness is one of the most glaring effects of the industrialization and commodification of contemporary cities.

Durante la 13° edizione di Cascine Aperte a Milano, PSICO.LOBO partecipa alla mostra Pensieri ancora possibili a cura di Sofia Baldi (25 Settembre- 25 Ottobre 2020) con una performance interattiva presso gli spazi di CasciNet Agrohub. La Natura è umana, con la direzione creativa di Virginia Roghi, viene strutturata attraverso il movimento e la ripetizione di gesti iconici per rigenerare lo sguardo verso se stessi, la comunità e lo spazio che ci circonda. PSICO.LOBO ripensa le regole dello spazio condiviso e la relazione tra i corpi, dove pubblico e performers sono accomunati dallo stesso spazio scenico ed emozionale. Secondo la teoria della psicogeografia, è essenziale iniziare a comprendere lo spazio urbano come un dispositivo attivo in grado di influenzare il comportamento e i pensieri del singolo. La progressiva perdita di auto consapevolezza è uno degli effetti più lampanti dell'industrializzazione e della trasformazione in commodity delle città contemporanee.



Curated and project by Virginia Roghi
Co-management: Andrea Isola, Sara Petretto
Music: Roberto Paravia, Marco Verna, Matteo Visigalli, Fabio Dozzini, Carolina Faroni
Performers: Sara Beatrice Palumbo, Leonardo Bianchi, Giulia Longoni, Matteo Strocchia, Claudia Catanzaro,
Marco Servina, Caterina Pucci